Aquarium Plants Resource
Home 30 Gallon 29 Gallon 10 Gallon Links Lighting
CO2 Diffuser Washing Flourite
Adventures With Needle Valves
After having good results with DIY CO2, I decided it was time to invest in a pressurized system. I purchased a new filled 10 LB CO2 tank from a local welding supply store for $100, and a two gauge regulator part number 2G371 ($41.25),from (Rapids Wholesale Equipment 1-800-472-7431). Then the fun began trying to find a suitable needle valve at a reasonable price.
The Search for a Needle Valve
I started by reading all of the information on the subject at The Krib. Even though it received iffy reviews I purchased an ARO FO1, part number 6ZCO7 from Graingers for $11.84. This valve was unable to reduce the flow of CO2 to a suitable level at any output pressure from the regulator. I tried everything from 100 psi to less than 1 psi.
The day before I purchased the FO1, I happened to be at Wal Mart and on a closeout rack of the aquarium section there was a brass 3 way air valve for $.70 . At the time I didn't now what I was going to use it for, but for $.70, it was hard to resist. After the failure of the ARO, I was considering what to do when the Wal Mart valve caught my eye and I decided on a long shot to give it a try. I was totally surprised to find that it could reduce the flow to 1 bubble a second, though it required a little fiddling to get it just right. However, this was merely a stopgap until I could find something better.
In the Grainger Catalog next to the ARO valve there was a Parker valve, model PF200B, stock number 4A788, for $12.82. That valve was also incapable of reducing to flow to anything close to the required bubble count, so I went back to the Wal Mart special.
Grainger also listed a higher priced Parker ColorFlow Needle Valve, model N200B, but now I was getting gun shy. Many calls later I was able to talk to a technical person familiar with Parker valves. He stated the NB200 series valves had the same needle arrangement as the PF200B and would not do the job.
Time to look for the Nupro valves mentioned on the Krib. An Ingersoll Rand distributor could order a M series (B2MA) for $34.90, but some people at the Krib seemed to think that for really adequate control, the S series was necessary and a BSS2 would be $47.60. I started to choke at the price, but then I discovered that these valves had Swagelok input and output fittings. Not only was the valve high priced, but the fittings were bound to produce a whole new set of problems trying to connect to 3/16 or 1/8 air hose.
Back to the drawing board. I tried ordering the Eheim diffuser from Pet Warehouse, but they were out of stock until May 17 at least. Also, I didn't like the thought of having to clean it every two weeks. There seem to be three possible valves listed on internet aquarium sites. Pet Warehouse has a valve from Fish Vet, but that sounded very iffy. Dave Gomberg has a valve, but he is in California and I was in a rush. Finally, Marine Monsters has an inline one for $26 and was nearby so they got the nod. When I ordered the valve, the person on the phone seemed very evasive as to whether the valve would actually reduce the CO2 flow to 6 bubbles a minute unless it was used with one of their regulators. When, the valve arrives I will post an update as to whether or not it really works.
I just received the Marine Monsters needle valve and much to my surprise it is essentially a model aircraft needle valve with slightly different end fittings. It worked essentially the same as a model aircraft valve and provided adequate CO2 regulation. However, it was somewhat more difficult to adjust than the model aircraft valves I have been using.
Parker HR Series - The Ultimate Valve
For a little more money than the Nupro S series, the Parker Instrumentation Valve Division in Jacksonville, AL, (205- 436-2130) makes the HR series precision metering valve. The HR-0 has a flow coefficient of .00034 and the HR-1 has a flow coefficient of .00080. (see the Krib for what this means) They can also be ordered with 1/8 NPT end fittings which will make connecting them to aquarium hose far easier than the Nupro valves. These valves should be able to give incredibly precise metering , but may well be overkill of aquarium use. A company called Tek Supply in Canton, Mass. (781-575-9880) can order these valves. Detailed information and pictures on these Parker valves can be found at:
HR data HR Options HR Flow Rates HR Ordering
The Revelation - A Cheap Easy Solution
I was somewhat leery that the Marine Monsters valve would actually work so I kept thinking about the problem. I my youth I had built and flown model aircraft and being a packrat, I had never gotten rid of my planes etc. I occurred to me that a needle valve from a model airplane engine might be just the right item. A search of the attic produced a needle valve from an old Enya 30 engine. The only modification necessary was to epoxy 3/16 OD brass tubing over the inlet and outlet. (See diagram)
Enya 30 Needle Valve Cox 049 needle valve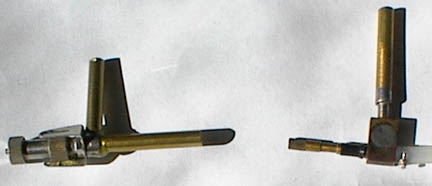 After letting the glue dry, I hooked it up and was pleasantly surprised. I was able to get a flow rate of 1 bubble every two seconds with no difficulty. Turning the needle one click produced 1 bubble every second. I did a leak check and found CO2 leaking around the threads of the needle, but Teflon tape and a little pipe sealing compound solved that problem. I have investigated their availability and an O.S. Max complete needle valve assembly (Manufacturer part number 21181902 ) shown below: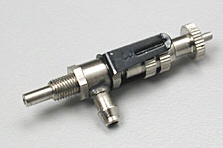 is currently available and can be obtained from your local hobby shop for about $10. If not it can be ordered from H & H Hobbies 1-860-536-4082 for $15 including shipping. They also carry heavy duty 3/32 ID silicone tubing to fit the inlet and outlet for $.75/ft. The valve is also available from Tower Hobbies (part number OSMG7164) but they charge a flat rate of $7.95 for shipping.
For an efficient means of diffusing the CO2 into the aquarium view my tennis ball can CO2 diffuser page
Questions or Comments agags@hotmail.com